Pricing plan options:
Monthly Rate:
£5 - Single
£10 - Family
Annual Rate:
£60 - Single
£120 - Family

30-Day money back guarantee
Dental, optical, and cosmetic services made easy
Are you struggling to find an affordable and accessible discount dental plan to meet your needs?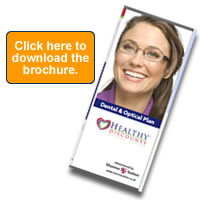 Saving money on dental and optical care and cosmetic services is easy with the Healthy Discounts Dental & Optical Plan by Munroe Sutton.
Forget claim forms, usage limits and medical restrictions. Simply show your Healthy Discounts membership card to a participating dentist or optician, and you'll receive instant savings that could add up to hundreds of pounds.
Comprehensive savings for you and your family:
Save 20% on major dental work, including root canals, cleanings, exams, dentures and crowns
Save 20% on eye exams, glasses and contact lenses
10% discount off advertised hearing aids. Hearing-aid price includes the evaluation, programming, fitting, aftercare, and a free quantity of hearing-aid batteries.
Take advantage of unlimited usage regardless of existing health issues
Include your whole family with affordable fees
Access a wide network of local dentists and opticians
Membership is good in the UK and US
Sample savings chart example*
Dental
Normal
Cost*
Plan
Cost
Savings
Oral Exam - Existing Patient
£40
£32
20%
Hygienist Appointment
£44
£35
20%
Fillings (small)
£60
£48
20%
Root Filling - Mollar
£344
£275
20%
Teeth Whitening - In Surgery
£400
£320
20%
Total
£888
£710
Reimbursement with Cash Plan
£100
Out-of-pocket cost with Cash Plan
£888 - £100
£788
Out-of-pocket costs with Cash Plan and
Munroe Sutton
£710 - £100
£610
Reimbursement from Cash Plan plus
Munroe Sutton Savings
£100 - £175
£278
*Normal fee is an average of participating private dental practitioners in London. Your actual
cost will vary by location. Consult with your practitioner on the cost and availability of services
before proceeding with treatment.
Optical by VSP
Normal
Cost**
Plan
Cost
Savings
Optical exam
£30
£24
20%
Frames
£149
£119.20
20%
Contact Lens Exam
£40.89
£34.76
15%
Total
£219.89
£177.96
**Normal fee from combined private fees collected from Munroe Sutton network, specific to the
Greater London area.
Contact Lens Exam from Optical Confederation survey data for April 2011 - March 2012.
Hearing Sample Savings
Normal
Cost
Plan Cost
Savings
Oticon Agil Pro - Hearing Aid
£1,700
£1,530
10%
Phonak Audeo 5 - Hearing Aid
£1,300
£1,170
10%
Siemens Centra Active - Hearing Aid
£1,100
£990
10%
Starkey E Services 2 - Hearing Aid
£600
£540
10%